Do you still remember the last relaunch of your website? Sure, if both the content and the technology behind it are outdated, you have no choice but to relaunch your website.
However, this not only consumes a lot of resources and often causes high costs. The redesign of a homepage is exhausting for everyone involved, who are only too happy when the mammoth project is finally completed. The newly shone online presence is then quickly lost sight of again - and that is exactly the mistake.
---
INNOVATION GAP
The Innovation Gap shows the innovation delays caused by relaunches when they are very long apart. At most, a company can catch up to the current state of innovation with a relaunch. If nothing happens for a long time, the gap between the company and its competitors widens, and there is a risk that the company will lose touch with its competitors or even lose its market leadership.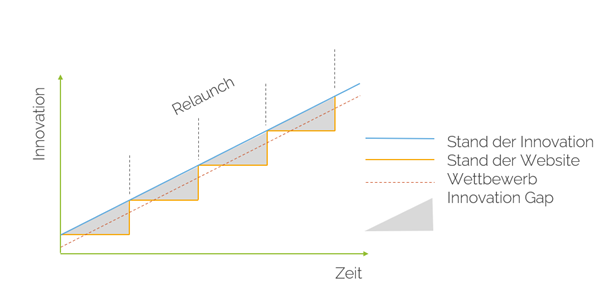 CONTINUOUS RELAUNCH REPLACES COMPLETE OVERHAUL
Instead of redesigning their website at regular intervals, more and more companies are opting for the so-called continuous relaunch. On the one hand, you fill the homepage with new content at regular intervals. This not only keeps the information on your website up to date, but also improves your marketing strategy and search engine rankings with the help of valuable content.
Of course, content is only one of many aspects that make up a well-functioning web presence. In order to be constantly up-to-date in terms of technology as well, regular updates are necessary. Of course, the more frequently you do these, the less effort it will take.
Ideally, the basis for optimizing your homepage is analysis and evaluation of visitor data. By looking at statistics on clicks, dwell time and navigation on the page, you will quickly find out where its weaknesses lie. Corresponding feedback from customers or the assessment of test users will help you discover and implement potential.
In the case of Continuous Relaunch, new or redesigned offers are made available in shorter cycles. This enables companies to develop the decisive edge over the competition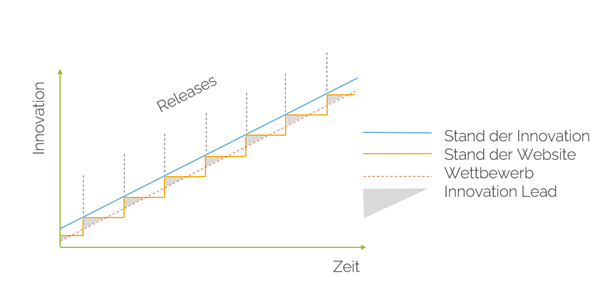 PREREQUISITES FOR SUSTAINABLE WEBSITE MANAGEMENT
In order to implement the principle of Continuous Relaunch and to further develop your Internet presence in a sustainable manner, a number of points must often first be set and foundation stones laid. Among the most important of these are:
Establish CMS as a platform: With a CMS, you create the ideal foundation for sustainable content and simple, fast updates with new content.
Identify homepage as a significant channel: How many visitors does your website have each day and what information do users retrieve? By looking at metrics, you'll learn the value of your website and be able to assess and build on its standing.
Integrate website into content marketing strategy: By making content marketing not only about social media, but also about your homepage, you expand its importance and take advantage of its newfound potential.
Set goals: In order to sustain the growth and development of your website and not lose sight of it in the long run, it helps most of all to set performance and reach goals and achieve them in a targeted manner.
Provide resources: Nothing comes from nothing. Reserve resources in the form of time and money for regular maintenance and further development of the homepage. Your performance and reach will thank you.
THE NEXT RELAUNCH IS THE LAST
Do you remember the last relaunch of Google, Facebook or Amazon? That's right, there wasn't one. Because neglecting your own homepage for years, only to polish it up again in a show of force is sustainable and will hardly be able to convince your customers. Through continuous development, however, your company can grow with and on its Internet presence. Maybe a big relaunch will be necessary for this. But make sure that it is the last of its kind!